The Process:
The Women Behind the
Production of Shea Butter
The Year of Expansion
A note from our founder:
This is a year of expansion for Hanahana Beauty. Between year one and now we have tripled our sales, increased our product line to 12 items, and are currently paying 2x the fair trade price for our shea butter. So moving into theme of expansion, our 2019 goal is to raise $250K. To start that process off we have entered a contest to win the Fedex Small Business Grant. We intend to use this grant to increase our visibility via our popup experiences, to invest in the Hanahana Circle (our holistic wellness initiative that supports the cooperatives we source from) + ramp up our production/sourcing, with an focus on efficiency + sustainability. You can support by voting once a day till April 1 for Hanahana Beauty. Your votes will boost our chances of being part of the 100 finalists. We would love for you to share this with your family, friends + community.
Last but definitely not least, for the past couple of months I've been going back and forth to Tamale to work with the managers of the cooperatives to figure out the best way the Hanahana Circle of Care can benefit the cooperatives we work with. I decided that to truly fulfill our mission of disrupting the beauty industry it would important for us to provide access to healthcare + wellness opportunities for the women we source from. So we have decided to add biannual Health Check Days for the Katariga cooperative women we work with. Our first Health Check Day will be held on April 5 + 6 in collaboration with the Tamale SDA Hospital outreach team. For this first year we are fundraising $5,000 to cover biannual medical checkups for 100 women. If you feel led to give back, we would love for your support through monetary or in-kind donations (list below).
Donate today via our GoFundMe campaign, vote for us to win the FedEx Small Business Grant, or email us at hello@hanahanabeauty.com or call +233550679585 to explore ways of support + collaboration with the Hanahana Circle of Care.
In following our mission to disrupt the beauty industry + create sustainability, transparency + accessibility in all aspects of the company, we're starting to build the "Hanahana Circle." Beyond a direct-trade partnership with the women's cooperatives, it also includes healthcare benefits, training, machinery +more.
After conversations with the women themselves, we have decided to raise funds to provide a kneading machine for each cooperative that is a part of the Hanahana Circle, starting with the Katariga Women's Group! The kneading machine not only increases efficiency by cutting the time it takes for the women to knead shea butter in half, it eliminates strenuous physical labor while doubling the amount of shea produced.With your monetary support and word-of-mouth, we can improve the process for the women who work tirelessly to produce the shea we use to keep you feeling smooth + confident. Thank you!
Hanahana in Ghana
After launching in Chicago in March 2017, less than two years ago, our founder, Abena Boamah, decided to move to Ghana this past September to continue to grow the company + be able to source not just shea but all of our ingredients from Ghana + other countries across the continent! By doing this, we also increase support + visibility for the women who produce our ingredients. This past summer, Hanahana Beauty started paying double the fair-trade price for our shea butter + expanded the number of collaboratives we work with from 1 to 3. We started with the Katariga Women's Group in Tamale, and we are working with the Sissla Women's Group in Tumu + most recently the Grunapaga Women's Group. With each visit to the cooperatives—when Abena (and our photographer Jessica Sarkodie!) get to know the women, do interviews, sample ingredients, and document the process—we gain better insight on how we can create access + more sustainable ways of growing as a company from all ends.
Phase 1 of The Process in Accra, our layover in SxSW + our activation in LA were all fantastic successes! See what we got up to, read about the history of the exhibition + find out how you can be part of The Process below!
Thanks to our brilliant hosts, Junior High!; to our wonderful yogi, Brialle Ringer + our brilliant photographer, Rikki Wright; our incredible speakers, Sana Javeri Kadr, Jocelyn Ramirez, Dania Cabello + Erica Chidi Cohen; and to our amazing sponsors, Canyon Coffee, Diaspora Co., Healthyish, Ojodelasol, Outdoor Voices,
Pukka Tea, Soto Sake + Yola Mezcal.
Launching The Process
On Friday, December 22, Hanahana Beauty launched The Process at Elle Lokko's Warehouse in Accra for four days—an incredible and inspiring experience of creativity, collaboration, teaching, wellness, and exploration.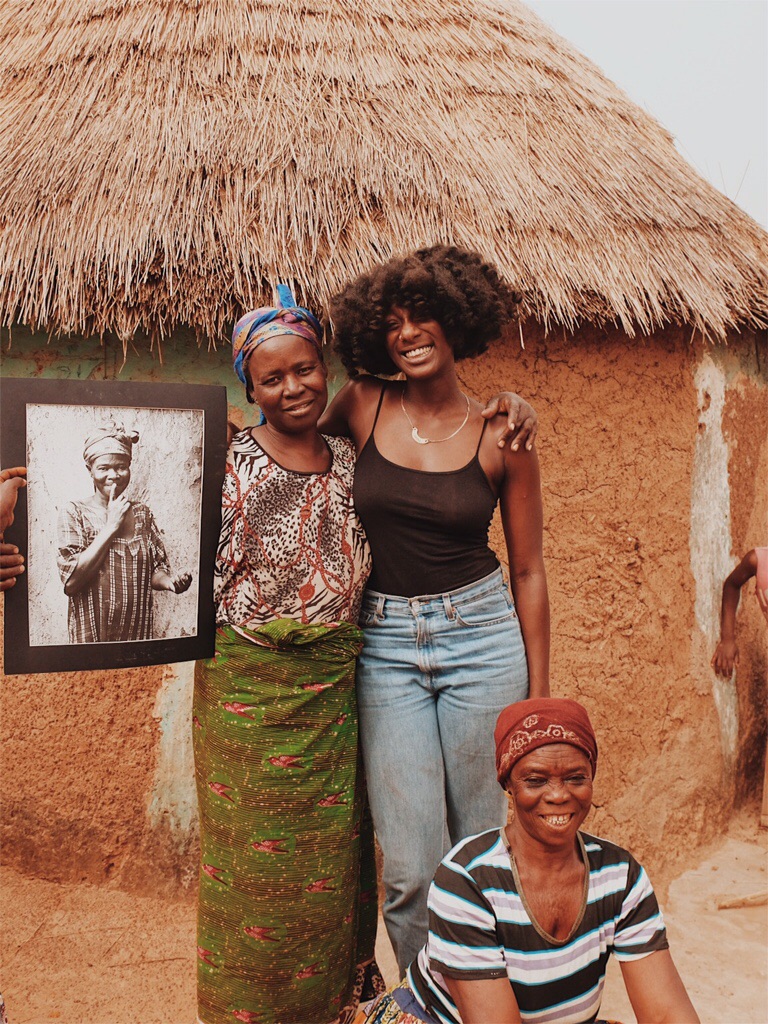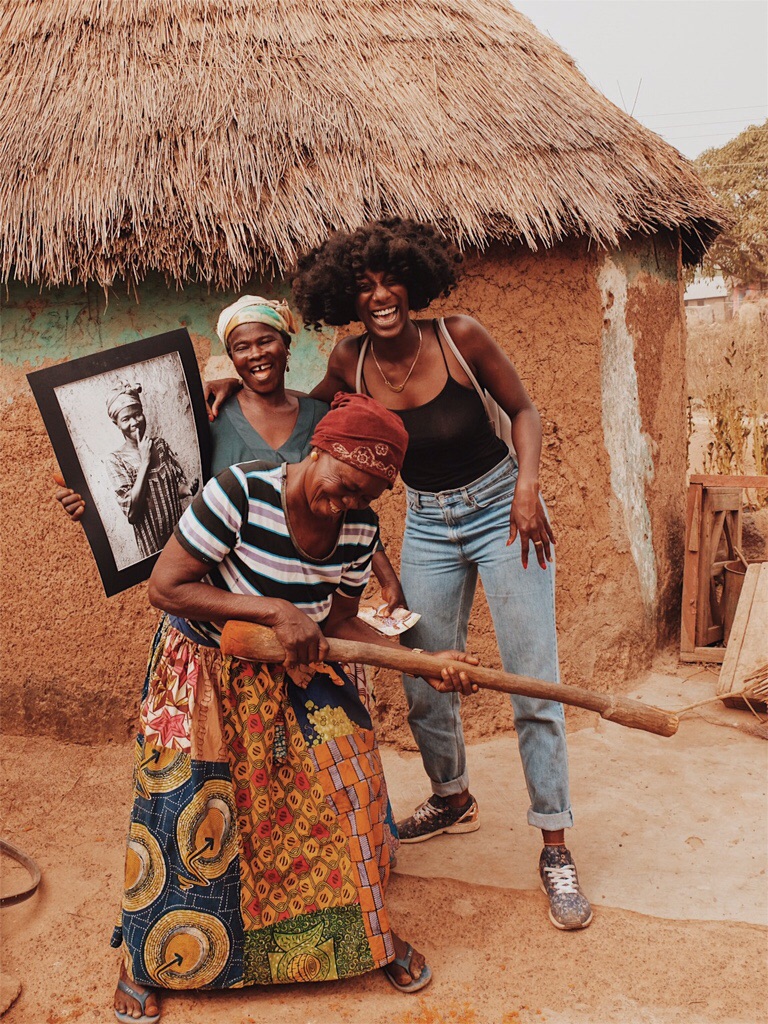 While in Ghana, Abena took the time to return to Tamale, where she revisited the Katariga Women's Group.
During their reunion, she conversed with the women, started talks to move toward more sustainable machinery for their process, and connected them with a new buyer.
Abena also surprised the women by gifting their portraits from the exhibition, and they were touched to see themselves and their work so beautifully represented.
We were able to meet our goal of showcasing not only the production of shea butter, but also the importance of capturing the faces and experiences of black people through our own lens, for us, by us.
So after launching The Process in Accra where it all began and stopping over at South by Southwest + activating in Los Angeles, we're excited and ready to continue the rest of our tour! Make sure to subscribe to our newsletter + follow us on social media to get the latest news!
Check out our video of the Katariga women's actual process of producing shea butter!
Behind The Process
In addition to creating + selling shea products, Hanahana Beauty seeks to act as a space to engage women of color and allow them to tell their stories + explore their inner and outer boundaries. Self-care, personal reflection + collaboration are central to our process; now we look to spotlight another process central to what we do.
Last summer, Abena sought to gain a better under-standing of the production of shea butter, so she went straight to the source: the Katariga Women's Group in Tamale, Ghana. The global shea butter value stands at more than $3.5 billion; you can find shea butter in almost every skincare product. There are women like those in the Katariga Women's Group all over West Africa working tirelessly to make shea, but despite its common use these women go unknown + unheard, so we want to shine a light on them + educate people about what they do.
Donate + share our GoFundMe to help us spread the story of shea!
The Process is a traveling exhibition that not only highlights these women's voices but encourages more transparency in the beauty industry, through photos, video, and interviews with the women at the back-end of the most universal natural product in skincare. Your monetary support will cover costs to develop The Process + take it across 4 US cities, and will go toward a more equitable world where women like those in the Katariga Group also have access to the market to improve their quality of life.
Watch this space! We will be adding information + updates on the progress of The Process and the Katariga Women's Group. Thank you for your support!